About Sabre Timber
Established in 2004 Sabre Timber is an independent agency specialising in Scandinavian softwood products. We are currently sourcing 50 - 60,000m3 per year for UK buyers from Finland and Sweden.
As a business we believe our success is based on the strength of our relationships with both our partners in Sweden and Finland and our customers in the UK.
For shippers we offer a full del credere service and place great emphasis on communication and flow of information so that both buyers and sellers are kept fully informed throughout from enquiry to delivery.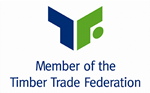 We are members of the Timber Trade Federation and issue NORSOF contracts under licence from the TTF.
Sustainable forestry management has always been important for Scandinavian sawmills and all of our partners have already achieved accreditation with either the FSC or PEFC certification schemes.